Bus Plugs
PFA Series Bus Plugs
Continental PFA Series Bus Plugs are built every step of the way with safety, quality, and reliability as primary goals. PFA Series Bus Plugs use stainless steel mechanisms and hardware throughout. As with our standard busway our bus plugs are C/UL Listed for compliance in the United States & Canada. We manufacture our bus plugs in Troy, MI keeping our supply base and our workforce here in the USA.
PFA Bus Plugs Info Sheet
Quick Or In-Stock Shipment
Competitive Pricing
Proven Quality & Safety
Broadened Compatibility with ITE/BD
Fits "BD" Style Bus Duct
Stainless Steel Mechanicals
Butterfly Handle
Powder Coat Finish
Competitive Pricing
2 Year Warranty
Visible Contacts
Replaces "BOS" Type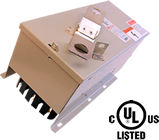 Continental Bus Plugs Are Available for Quick Shipment. Contact Your Electrical Distributor For More Detailed Information, Stock Inquiries, and Pricing.
CATALOG NO.
RATING
3 Phase, 3 Wire
250 Volt
PFA321
30 Amp
PFA322
60 Amp
PFA323
100 Amp
PFA324
200 Amp
600 Volt
PFA351
30 Amp
PFA352
60 Amp
PFA353
100 Amp
PFA354
200 Amp
3 Phase, 4 Wire
250 Volt
PFA421
30 Amp
PFA422
60 Amp
PFA423
100 Amp
PFA424
200 Amp
600 Volt
PFA451
30 Amp
PFA452
60 Amp
PFA453
100 Amp
PFA454
200 Amp
3 Phase, 5 Wire
250 Volt
PFA521
30 Amp
PFA522
60 Amp
PFA523
100 Amp
PFA524
200 Amp
600 Volt
PFA551
30 Amp
PFA552
60 Amp
PFA553
100 Amp
PFA554
200 Amp
3 Phase, 3 Wire + Ground (Specials)
250 Volt
PFA321G
30 Amp
PFA322G
60 Amp
PFA323G
100 Amp
PFA324G
200 Amp
600 Volt
PFA351G
30 Amp
PFA352G
60 Amp
PFA353G
100 Amp
PFA354G
200 Amp